Please see the LATEST NEWS page.
Wellington Village
Wellington is a village of some 1000 people, situated approximately 5 miles north of Hereford; just off the A49 en route to Leominster.
Wellington Dovecote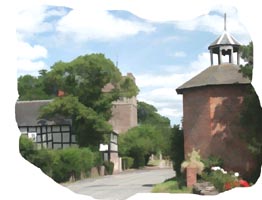 There has been a settlement at Wellington for over one thousand years. The first recorded mention was in 1035. In 1038 the name is given as "Weolintun", which may mean "the temple clearing," from the Anglo-Saxon "weoh" meaning "holy" or possibly "Weola's clearing" - Weola being a personal name. Others consider that the name means "a village with watery meadows!" Later, in 1066, when it was already a flourishing and well populated place, the village is referred to as "Walinstone." The village is recorded in Domesday Book as having a resident priest and being held by one Hugh l'asne, or Hugh Donkey!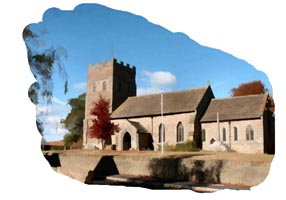 As you enter the village from the A49, Bridge House, a former coaching inn has recently been reconstructed. On the main street you will pass the Parish Church of St Margaret of Antioch on your right. The church, the earliest parts of which are Norman, was built in the 12th Century and is generally open to visitors during daylight hours. Opposite the church is the village Primary School, which, with the new Memorial Hall built on to it as an extension, forms the Community Centre. Behind the school to the south, lie the village playing fields, with two football pitches, a cricket pitch, bowling green and tennis courts. Further west are "The Wellington" pub and restaurant, the village shop with Post Office, the Social Club and the Chapel. The village contains a number of interesting and picturesque timber framed houses, together with more modern dwellings.
About Us
|
Constitution
|
Privacy Policy
|
Contact Us
|
©2009 Wellington Parish History Society
|
Last Updated 12 October, 2015 |